There are many dental problems that can affect your oral health and smile. Fortunately, most of them can be easily prevented with daily brushing and flossing, regular preventive care from our dentist and team, and a healthy diet.
Some common dental problems include: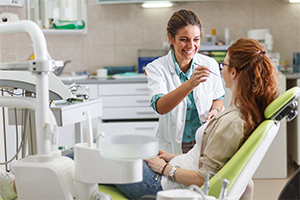 Bad Breath — Bad breath, or halitosis, is a common dental condition and may be caused by several different factors, including gum disease, cavities, oral cancer, dry mouth, bacteria on the tongue or food debris in the mouth. Our dentist can help determine the cause of your bad breath and find a solution to eliminate it.
Tooth Decay — Also known as cavities or dental caries, tooth decay is second only to the common cold as the most prevalent disease. Cavities develop when plaque combines with the sugars and starches of your food to produce acids that attack tooth enamel. The best way to prevent cavities is to the brush and floss daily, go to your regular dental cleanings, and eat a healthy diet.
Periodontal (Gum) Disease — This condition is an infection of the gums surrounding the teeth and is one of the main causes of tooth and gum loss. Studies indicate that gum disease is linked to more serious medical conditions, including heart disease, diabetes and stroke. Common symptoms of gum disease include bad breath; red, swollen or tender gums; easy bleeding of the gums; and sensitive teeth. Your risk of gum disease can be reduced with a good oral hygiene routine and regular professional preventive care.
Oral Cancer — Oral cancer is a serious and deadly disease that affects millions of people. Fortunately, it is often curable when diagnosed and treated in the early stages of development. Regular dental visits help catch oral cancer early, and we encourage you to check with our dentist if you notice any signs of oral cancer, such as sores, lumps or rough areas of the mouth, or if you have difficulty chewing or moving your tongue or jaw.
Mouth Sores — There are several types of mouth sores that may develop. Mouth sores are usually nothing to worry about and will disappear on their own. However, if a mouth sore lasts more than two weeks, it may be a sign of another problem and should be checked by our dentist. Common types of mouth sores are canker sores, cold sores and oral thrush.
Tooth Erosion — Tooth erosion is the loss of tooth structure caused by acid attacking the tooth enamel. Signs of this condition range from increased sensitivity to more severe problems such as cracking.
Tooth Sensitivity — Tooth sensitivity is a common problem that involves experiencing discomfort due to exposing your teeth to sweets, cold air, cold drinks, or hot drinks and foods. Sensitive teeth may also be a sign of a cracked tooth or tooth abscess. Please schedule an appointment with our dentist if you develop tooth sensitivity.
Toothaches and Other Dental Emergencies — While many toothaches and dental emergencies can be easily avoided with preventive care, accidents do occasionally happen. Common problems that require emergency treatment include broken or cracked teeth, abscessed teeth, and knocked-out teeth.
An Unattractive Smile — While an unattractive smile is not a "dental problem," it is one of the biggest reasons why many people seek dental treatment. Cosmetic dental treatments can improve the appearance of your teeth and help you achieve a beautiful smile that you can feel confident in sharing with others.
For more information about common dental problems and to schedule a consultation with our dentist, please contact our office today.